We are happy to inform you that the new Special Issue (New Advances and Challenges in Communication Networks) of scientific journal Electronics MDPI is now open for paper submission. This Special Issue calls for papers presenting novel works regarding planning, development, optimizing, simulating, and securing communication networks. Furthermore, high-quality review and survey papers are welcomed.
MDPI Electronics is a scientific journal indexed in Clarivate Web of Science Core Collection (SCI-Expanded) and Clarivate Web of Science Current Content with Impact Factor (IF-2019): 2.412, and belongs to Q2 quartile according to SJR.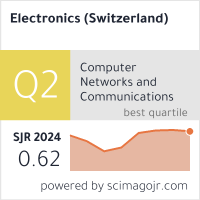 Submission deadline: 1. January, 2022.
Guest editors:
Ivan Cvitić, Ph.D.
Prof. Dragan Peraković, Ph.D.
Assistant prof. Anca Delia Jurcut, Ph.D.
Prof. Goran Marković, Ph.D.